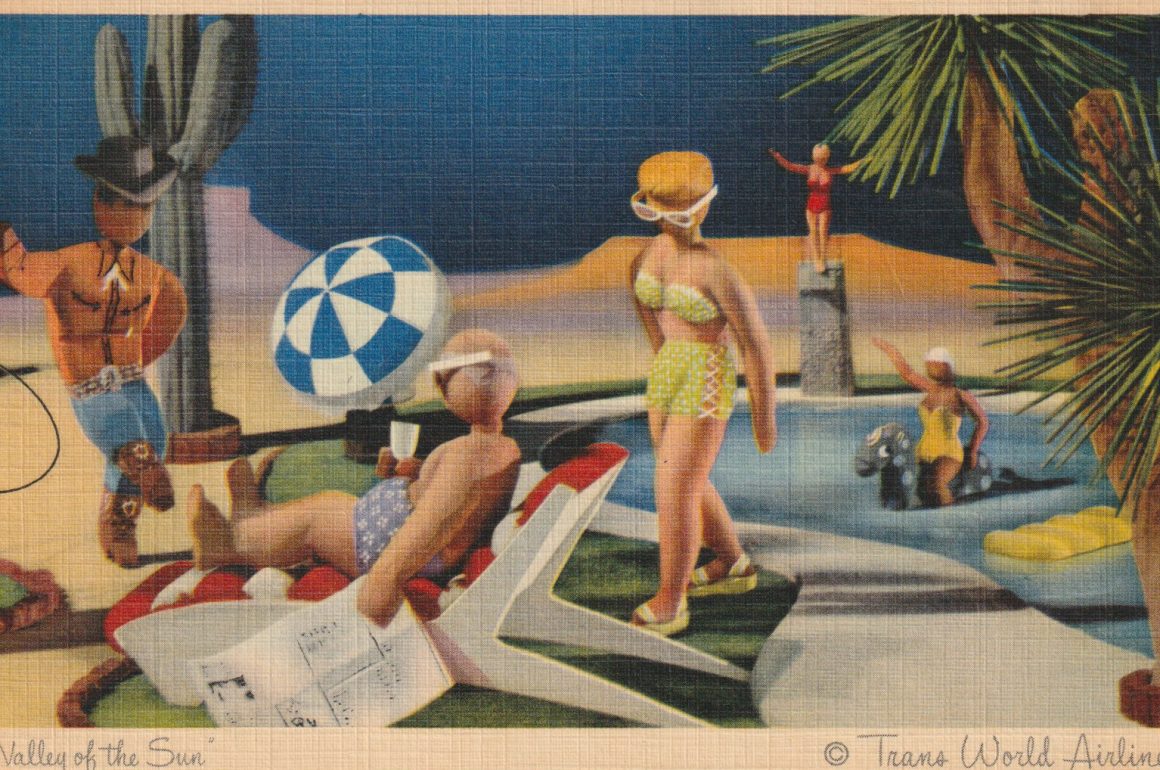 Dear Readers:
While this postcard was never sent, I, nevertheless find a story here. This a Transworld Airlines 1950 promotion to the "Winter Weary Businessman" (which I love in so many ways!).
"TWA Phoenix, Arizona – in the Valley of the Sun! Swimming and riding, hunting and fishing, golf, or just plain loafing in the healthful Southwest sun. It's TWA's Quickie Vacation – just what the doctor ordered for the winter-weary businessman."
I have visions of meetings between TWA and the Phoenix Chamber of Commerce, or perhaps the Hotel and Motel Association, deciding what figures to include in the post card.  Obviously, a pool must be included with sexy clay-mation women in fashionable swimwear. The sunglasses  on the blond are currently in vogue – what is old is new again. 
The sea monster riding woman, with her sensible swimming cap – what more can I say?!
And the red, buxom, diving queen on the board!!  
In the days before frequent flyer miles, I wonder if this card was tucked in a seat back pocket on every flight from Chicago to NYC and every airport in between. 
On to the apparently winter-weary businessman, with his balding head, cocktail and newspaper. Saguaro cactus, yucca and a lariat twirling cowboy complete the vignette.  
In 1950, TWA was marketing the "quickie vacation". Newspapers touted the "quick" flights to Phoenix from various cities in the US. Only 11 hours 30 minutes from New York City!!  Newsweek covered the story in 4 pages. 60 travel writers came to Phoenix to experience the sunny winter weather. And so it goes…
Golf remains a huge part of the Phoenix economy, but riding and fishing, a bit less. Spring training, food and the Arabian Horse Show have all added to the lure of the spectacular desert seasonal visiting. 
Off to other adventures and quick trips to Arizona!
Best, Sherry 
Subscribe to this site for updates