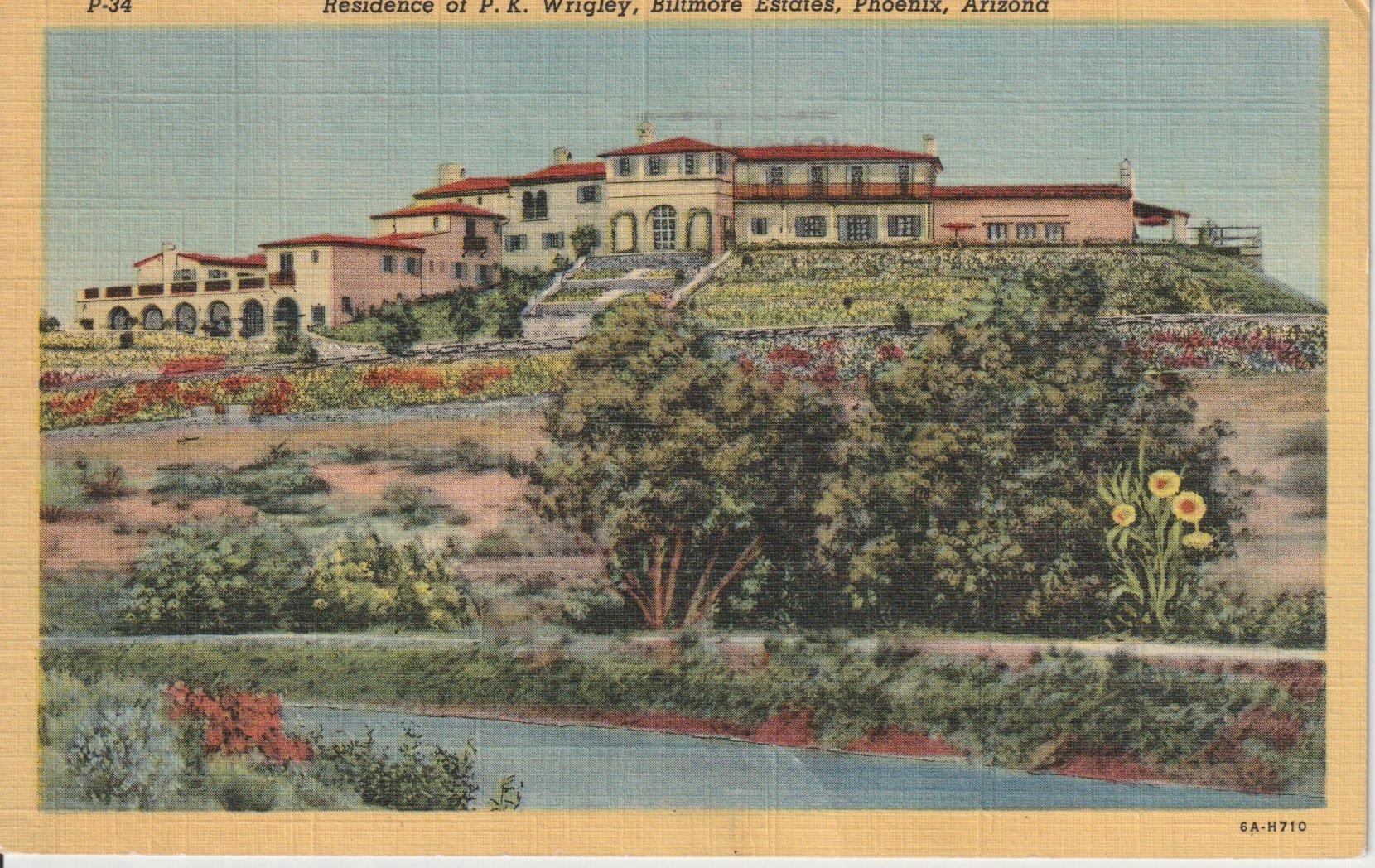 No, not that Frank (Lloyd Wright).
Our postcard today shows the "Residence of P. K. Wrigley, Biltmore Estates, Phoenix, Arizona". The writer says, "Well Ed we got as far as Phoenix and is a nice place will take in some trips all is going fine so far Frank" I love the ee cummings absence of punctuation this writer follows.
Today, the Wrigley Mansion is a private club, with very affordable dues. What is fascinating to me as I write this, is the fact that Mr. Wrigley had a number of mansions around the country, all called Wrigley Mansion. Chicago, Pasadena, Lake Geneva, Wisconsin, Catalina Island, CA, and Arizona. I love stories about mid-west people who made it big and found life in the west attractive.
Mr. Wrigley was one of the financiers of the Arizona Biltmore, very near his mansion. Our writer, Frank, would certainly have at least seen the Arizona Biltmore, which by the way has no relation to the Vanderbilt's Biltmore in North Carolina, other than name.
I wonder why Frank, who is not our Frank Lloyd Wright of Arizona Biltmore fame, is in Arizona? Is he there for vacation or is he there for the dry air, that so many midwestern people craved, or were ordered to by their doctors? I hope he wasn't ill and had simply decided to retire there, or vacation, or work.
The postcard says, "This palatial mansion is located on a high mesa overlooking the Biltmore Estates with a commanding view of many of the points of interest in the "Valley of the Sun." Directly below is the Arizona Biltmore, in the distance Squaw Peak, Camel Back Mountain, acres of citrus groves and beyond, the desert."
The Wrigley Mansion, constructed by William Wrigley, Jr, (chewing gum) for his wife on their 50th anniversary, then owned by Geordie Hormel (Spam – the meat, not the email), provides the color, scale and uniquely Phoenix object of this postcard. From the colors of the mansion on the hill, to the canal below, the blooming cactus and the lush flowering vegetation, it encapsulates so much of what makes Phoenix iconic.
Names have changed, but the nature of the spectacular colors, sun, geology and skies have not changed. I love Camel Back Mountain, constructed with 3 deliberate words and not the current Camelback. Squaw Peak, renamed for Lori Ann Piestewa the first known Native American woman to die in combat and the first female soldier to be killed in action in the 2003 Iraq War. Orange trees still bloom and fruit in the area, although not as much as in the 1940's nor as much as when I lived in Phoenix.
The home was also known as William Wrigley Jr. Winter Cottage and La Colina Solana. OK, so 24 rooms, 12 bathrooms and 16,000 square feet isn't a cottage in my experience, but hey, if you are wealthy enough to build it, I guess you can call it a cottage, even though it would be the size of about 800 cottages on the lake where I grew up. La Colina Solana, translated to The Sunny Hill and indeed, it is and was that.
Biltmore estates exists and homes sell there frequently. It is a spectacularly beautiful area, as it was when our writer, Frank visited.
As always, I imagine Frank's trip to Phoenix, arriving there sometime in November, when it would have been cold, where the recipient lived, in Ohio. Seeing the amazing green citrus trees – which never lose their leaves, nor turn brown, cactus flowers blooming, the purple, coral and amber light of sunsets, the desert colors as the sun sets, he must have wondered about all of it. I hope that he was in awe, that it was inspiring and that he thought – "I am glad I am here."
Until next time, happy travels in Arizona.
Sherry
Subscribe to this site for updates