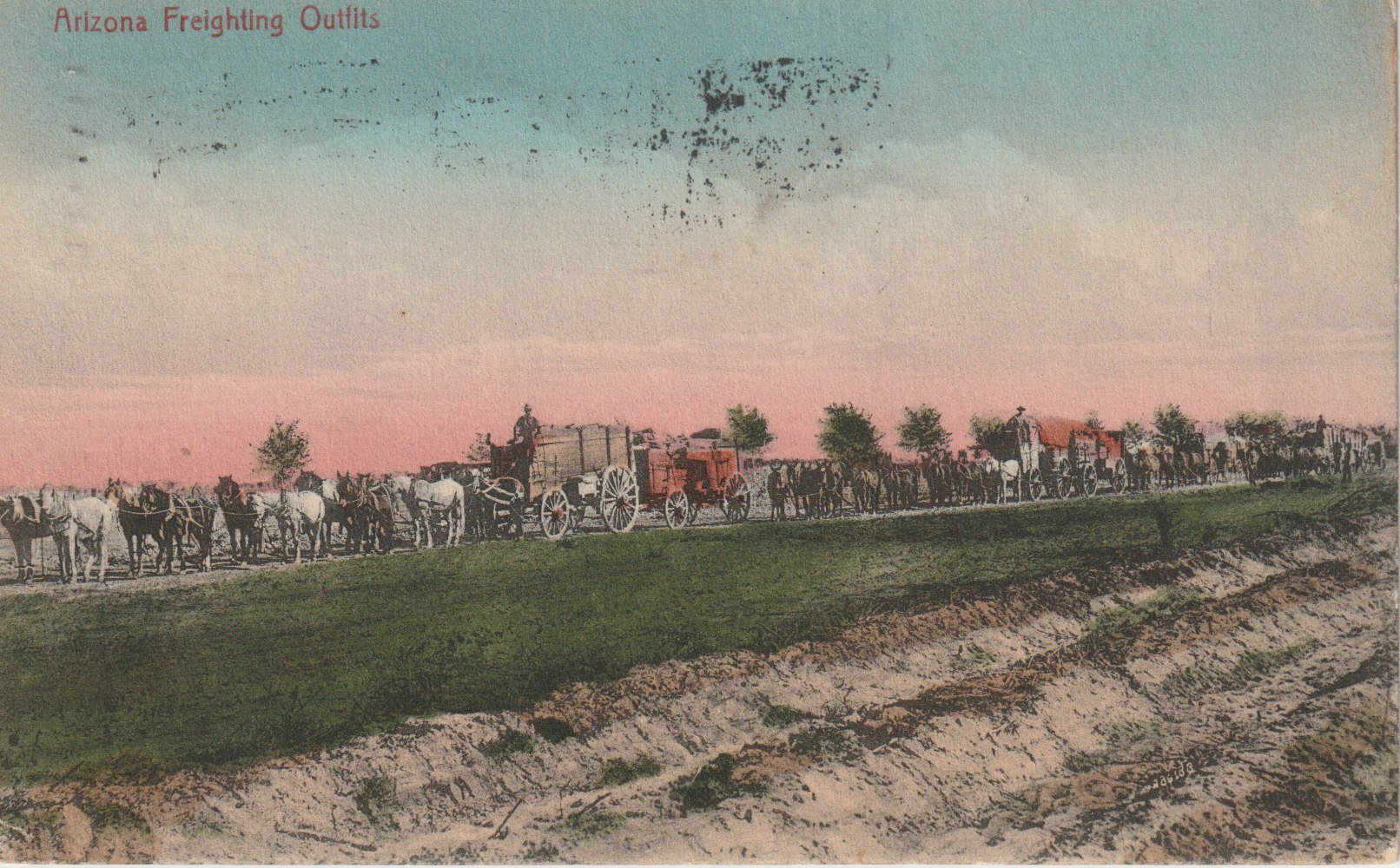 Blue skies, sunset colors, and green trees on this card intrigued me.
In front of this lovely sky is a freighters line. The word itself, "freighters" is not a word that we hear today, but during this time period freighters were critical.
During the late 1800's, before railroads and reliable trucks that could handle heavy, bulky loads, these horse, mule and oxen drawn outfits carried goods, minerals and supplies across the desert. I wondered why freighters were the subject of a number of postcards I'd seen.
Wikipedia says that Arizona has 91 cities and towns. A number of these are grouped around major cities, like Phoenix, which is an amalgamation of at least 20 cities. Contrast this with the number of ghost towns – towns that existed and sometimes thrived during the time period of this post card.  At that time 132 towns existed; mining, or small towns grown to serve ranching communities. These towns were widely dispersed across the territory.
Railroads were under construction and lines were opening to small towns, but not all, so these freighting outfits brought supplies to smaller settlements. Not everything could be carried on horseback.
These wagons were built in the east, and driven, fully loaded to Arizona and the west before railroads. By the time the wagon arrived in Arizona, it needed repairs and the animals were exhausted. Articles in newspapers of the time detail choices between horses, mules and oxen. Long stretches of these journeys had no water, so in addition to hauling freight, the freighter hauled water and feed for the animals, thus increasing the number of wagons needed. Oxen needed less water so were a popular and economical alternative. Some of the mines were producing so much ore, it could not be hauled out quickly enough, and piled up near the mines. Freighting outfits were in short supply.
After such a long journey, with so much weight across trails and roads, many wagons were falling apart. These were sold for lumber, wheels sold to wagon makers for use on other wagons, oxen yokes sold for plowing, animals sold for cash. The teamsters stayed to make new lives in the west. And, here we have what would eventually become the Teamster's Union. The men who drove these teams – "teamsters"; men guiding teams of horses.
Linda Ronstadt and her story join the thread here. Researching this post, I arrive at F. Ronstadt Company Wagonworks, the premiere wagon makers in southern Arizona. Hmm, I think, not a common a name, so I look and there she is – one of my all-time favorite performers. I always knew she was from Arizona and I found her music reflective of place.  She is a descendant of this prominent Arizona family, whose patriarch made and repaired wagons.
This card is dated December 27th1909 and says, "Dear George – Did you have a Merry Xmas? I hope so and this is h-wish you a happy New Year – It's colder than Greenland here now. Six degrees below zero – isn't this a pretty card for an Arizona scene? Hoping you are all well. Lovingly JMD   Prescott Arizona, December 27th 1909"  This card is addressed to: Mr. George W. Marvin (unreadable town) New York.  R.F.D. No. 1
RFD, Rural Free Delivery, was a development of the US Postal Service. Prior to RFD, anyone living in a rural area either had to get to the nearest town with a post office to pick up mail or pay a service to bring mail to their home or business.
I wonder about the writer of this card. I presume it is a woman, but I am not sure. Would a man sign the card, "lovingly" to another man at this time? Maybe? Or is this a woman writing?  Did this person somehow know the temperature in Greenland? Did this person have access in Prescott, Arizona, to a newspaper that that published temperatures in Greenland? Maybe the writer is from Greenland? Or had just received a postcard from Greenland? Or, maybe I will find some random connection between Greenland and Prescott, Arizona.
I am left to ponder Greenland, while listening to Linda Ronstadt's album of traditional, music – Canciones de mi Padre, the music one would have heard in southern Arizona when this card was written.
Sherry
Subscribe to this site for updates