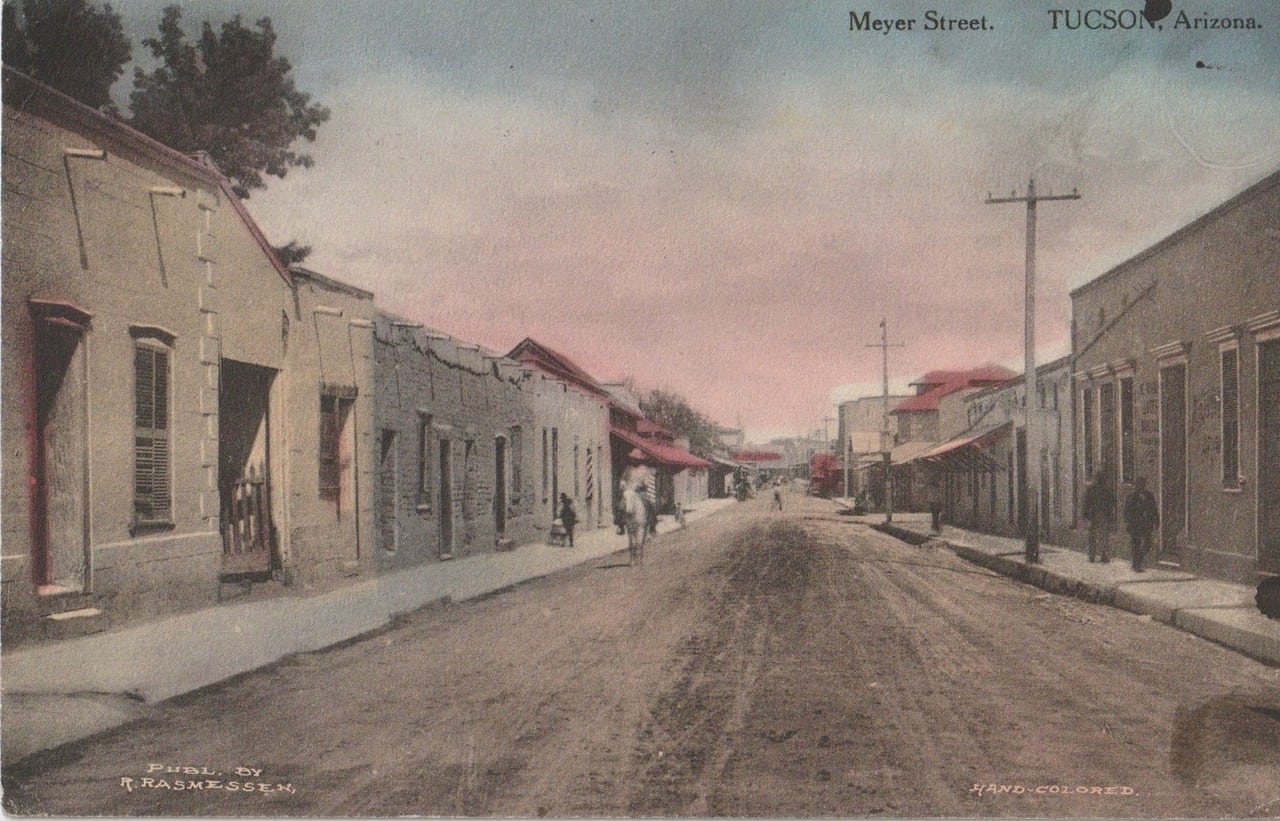 Barrio Libre, Tucson, Arizona
As I see postcards, buy them, invest time and energy into blogging about them, I feel more and more that these, more than any other human artifact encapsulate time, place, culture and their intersections. One single postcard captures sender, recipient, place, time, culture and other human artifacts in a way nothing else does.
This card is one of those intersections. Eva is writing to Uncle E. and Aunt M. Aunt and Uncle apparently found this postcard important, keeping it through time. 108 years later, it arrives here, with me, now traveling to Tucson in my blog. I think about Eva here. If she was from Chicago, which is likely, what must she have thought of her new home?!
Arizona would not be a state for another 2 years. The photo was taken in 1905, with "moon light" poles on the right side of the street. These were early versions of electric street lights, providing some illumination, with the intention of making streets safer.
This is Barrio Libre and remains today, original buildings intact, present on the National Register of Historic Places.
Barrio Libre translates to free town, in this case, meaning anything goes – or went. The neighborhood had a Chinese grocery store, Spanish and Mexican land owners and ranchers. Anglos had begun to move in, following the mines and ranching. Perusing newspaper articles of mention a wide range of activities, from distributing fireworks (Oh MY!!), to gambling, shooting, swearing, prostitution and beer drinking!!
Buildings combined Spanish and Indian styles. Native Americans had figured out how to live in this environment over thousands of years. This mosaic of old and new humans, ended up creating a new architectural style still used in the Southwest.
Newspapers of the time provide a glimpse into a wholly different time and life, while paralleling timeless human experiences. There are citizen complaints to the newspaper about assigning any crime in the general area to their neighborhood, when in fact, the perpetrators lived in other neighborhoods. Another article dated 1895, in the Arizona Weekly Citizen, states that increases in crime were due to budget cuts, resulting in the barrio's loss of a mounted police officer and demanding his return.
I quote one article from the Arizona Weekly Citizen: "About 10 o'clock last night the usual batch of Barrio Libre shooting was done…This is nothing unusual or extraordinary in that locality…But scarcely a night passes that the air is not made foul with cursings and the most obscene language imaginable. This should be stopped at once and the city authorities should take cognizance of it." Apparently, shootings were not quite as objectionable as the clouds of cursing.
Another citizen is reported to have been "ginned from guns to boots" and "promenading in the street." He was duly arrested and put in jail. Jail however, seems to be an interesting stop for cowboys and gamblers. A subsequent article covers poker game results; the players are inmates at the local jail. I found that article on the social pages!.
Today, Barrio Libre is a lovely, architecturally significant part of Tucson. Adobes have been painted bright colors and the neighborhood is a must-see walking tour in Tucson.
When I read about places like this, with "Hebrew grocers", the local French restaurant advertising its latest shipment of oysters on the half shell (OH MY! Tucson in the SUMMER, with primitive refrigeration and by the way – HOW, did those oysters arrive and from whence did they come?! I shudder to think!), Apaches, Spaniards, Anglos, all that diversity in a place, I think about the original bar scene in Star Wars. I think walking into a bar at that time would feel a little like that, minus saber guns and star ships.
Tucson, with its mines, changing borders, railroads, Spanish and Anglo settlers, and everyone who came along to participate in the Wild, Wild West was an amalgamation of culture, time, language and humanity. I lived in Tucson for one semester, before deciding to attend ASU. I have wonderful memories of the very best Mexican food I've ever tasted. That feeling of cooler temperatures and that special combination of history only present in Tucson.
Off to more wanderings through time and place.
Sherry
Subscribe to this site for updates