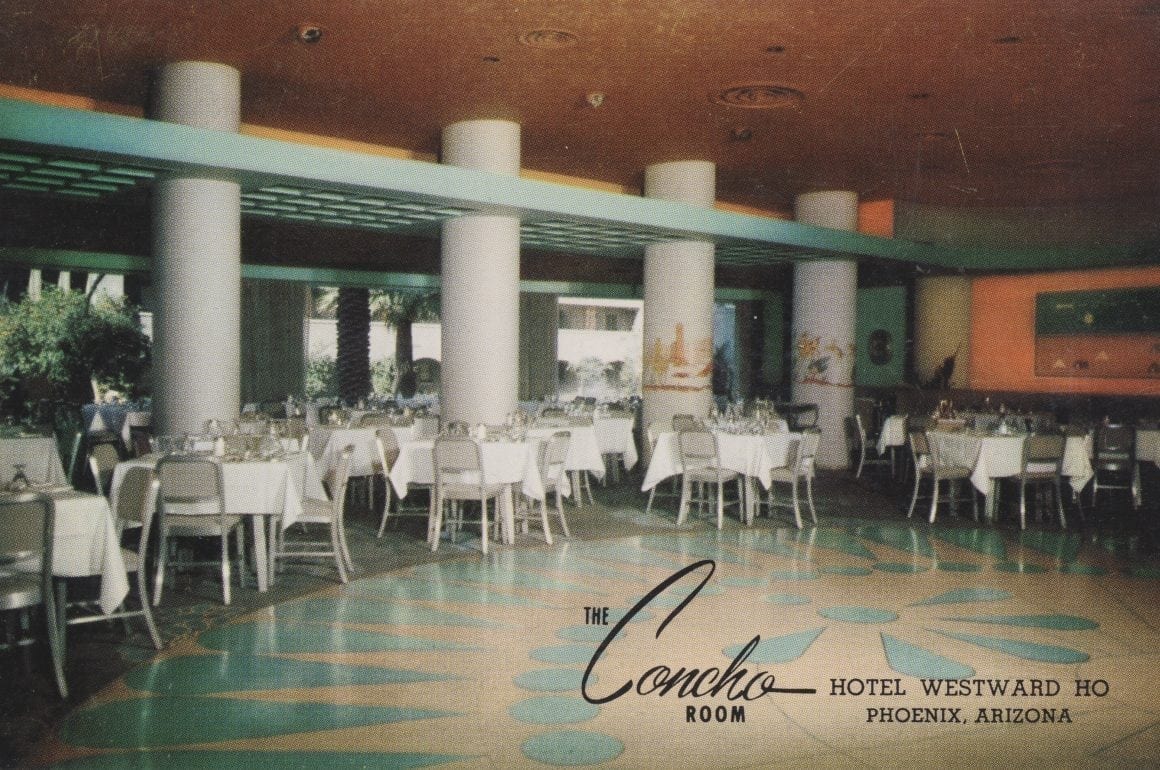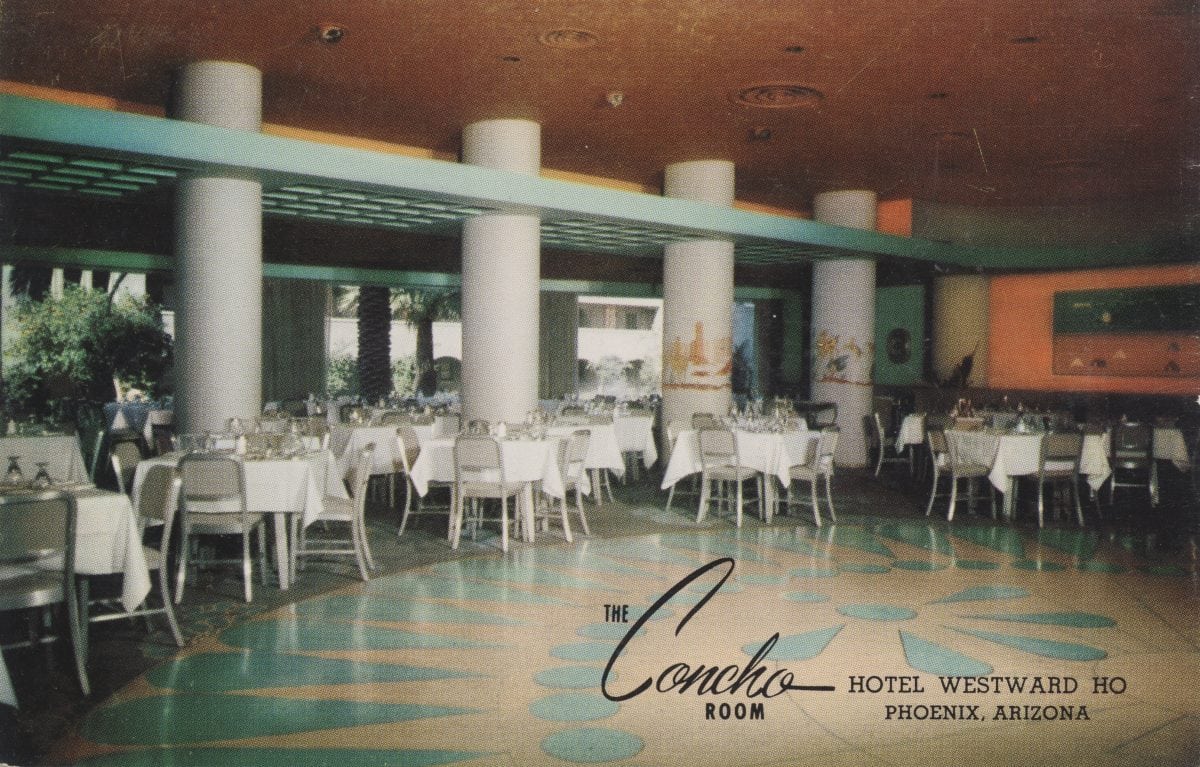 Marlon Brando. Al Capone. Conchos.
The Concho Room was a bar and ballroom in the Westward Ho Hotel in downtown Phoenix. I must say, I always knew that the hotel existed, but beyond thinking it resembled hotels in eastern cities, I didn't pay much attention. Little did I know. Clark Gable visits again, along with other luminaries; more on that later.
I see this room, with a band, cigarette holders in the hands of elegant women in fabulous dresses, dancing in between martinis shared with handsome men. Phoenix was experiencing tremendous expansion; World War II was over and 1950's optimism was everywhere. (Like the Pink Pony, I want a developer to resurrect this room as a bar and restaurant somewhere.)
The Concho room didn't arrive until 1952, while the hotel was built in 1928. Let's start with Concho (aka Concha). Concho belts, jewelry, saddle decoration are known to anyone visiting or living in Arizona. While concho is most associated with Native Americans, the word is Spanish, and depending on what source is used, either means a small valley or a shell. No matter, today in Arizona, concho belongs to Native American artists.
The Concho Room's design was all about Arizona, with murals on the structural pillars, sand painting under glass at the bar, concho light fixtures, and turquoise fragments in the floor design. Native American artists were contracted to provide these design features. Van Tsihnahjinnie was the artist who painted the murals. I cannot verify this, but I believe he is the same well known Navajo artist recognized as versatile and prolific. Kenneth Begay and Allen Kee are shown in an article with the concho light fixtures. The sand painting is simply credited to a "Navajo Medicine Man".
In 1928, the Westward Ho, had air-conditioning, "ice water taps" and charged 10 times the nightly rate of its competitors. It was the tallest building in Phoenix until the 1960's.
Ice Water Taps, you ask? Each room held a magical faucet that provided cold water, direct from a chiller, located elsewhere in the hotel. These were the predecessors to our refrigerator door cold water. I think, genius idea in Arizona for much of the summer. I had no idea.
Throughout life, I've enjoyed discovering random connections. So, there I was, researching the Westward Ho and up pops Clark Gable again. He was a frequent visitor to the hotel and its various restaurants and bars. What fun!
As I continued my research, I find Marlon Brando visiting the hotel. Random connection time. In my life, I've been privileged to meet many high-profile people, including innumerable Hollywood stars. Having said that, there are a handful of people I've met who I regard as remarkable and especially memorable. Marlon Brando was one of those people. My first meeting with him is as vivid today as it was the very moment I met him. There's the first coincidence. Marlon Brando spent time at the Westward Ho.
As I continued researching, I discover that one of the owners in its storied history was a husband and wife, who owned various properties in the Phoenix area. My dad built a number of homes in the Phoenix area. Always on a hill, always with a scary driveway. He bought one of these teetering lots that no one else would build on, from the very same woman who was a one-time owner of the Westward Ho.
The hotel also hosted US Presidents – John F. Kennedy, Dwight Eisenhower and gangsters – Al Capone. Wherein, another of those odd intersections comes to light.
You may recall my brief mention of my great-great grandparents, who built a hotel in rural Wisconsin? If you were to google Maribel Caves Hotel, you would find Al Capone rumored to have frequented there. Here he is, at the Westward Ho in Phoenix. And with Al Capone, Marlon Brando and the less well known former owners, my connections to the Westward Ho ends.
Today, the Westward Ho is home to low income seniors, having been repurposed when downtown in Phoenix didn't make as much sense as in 1928. In an article, I found mention of a current resident, who worked at the hotel during his working years. I like the idea that the building itself was preserved and that it serves a useful purpose in the community.
Until the next love letter,
Sherry
Subscribe to this site for updates