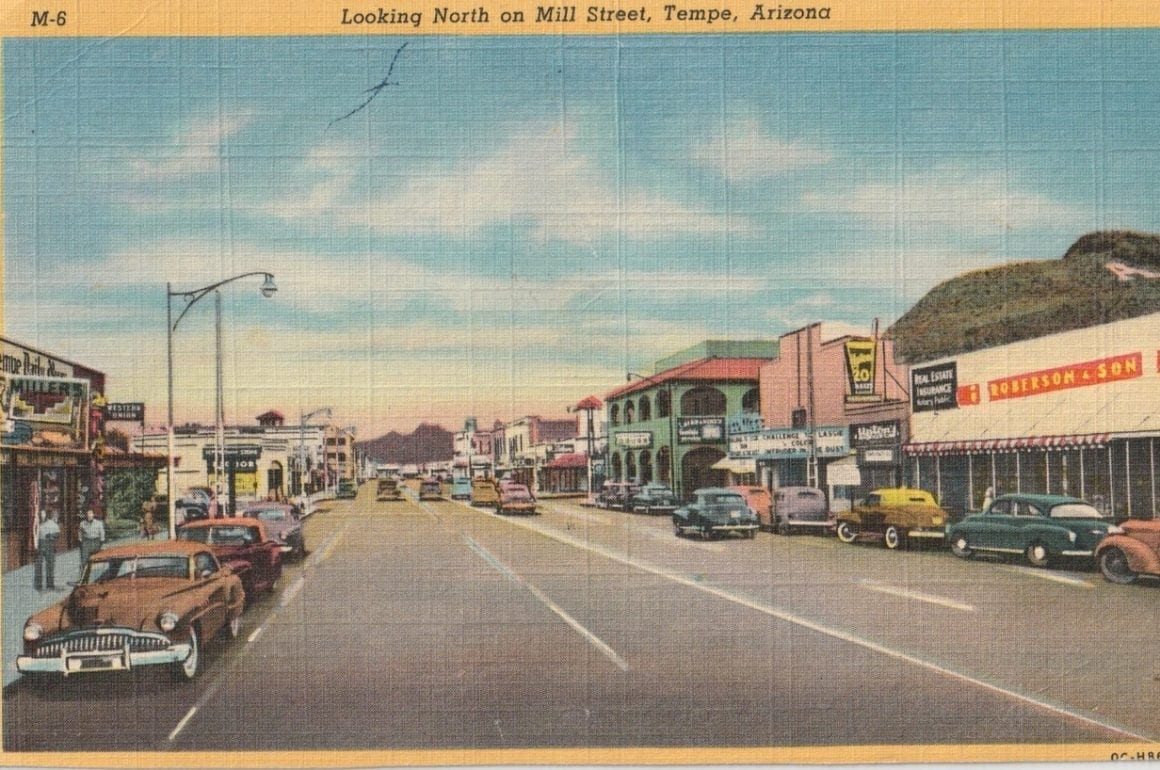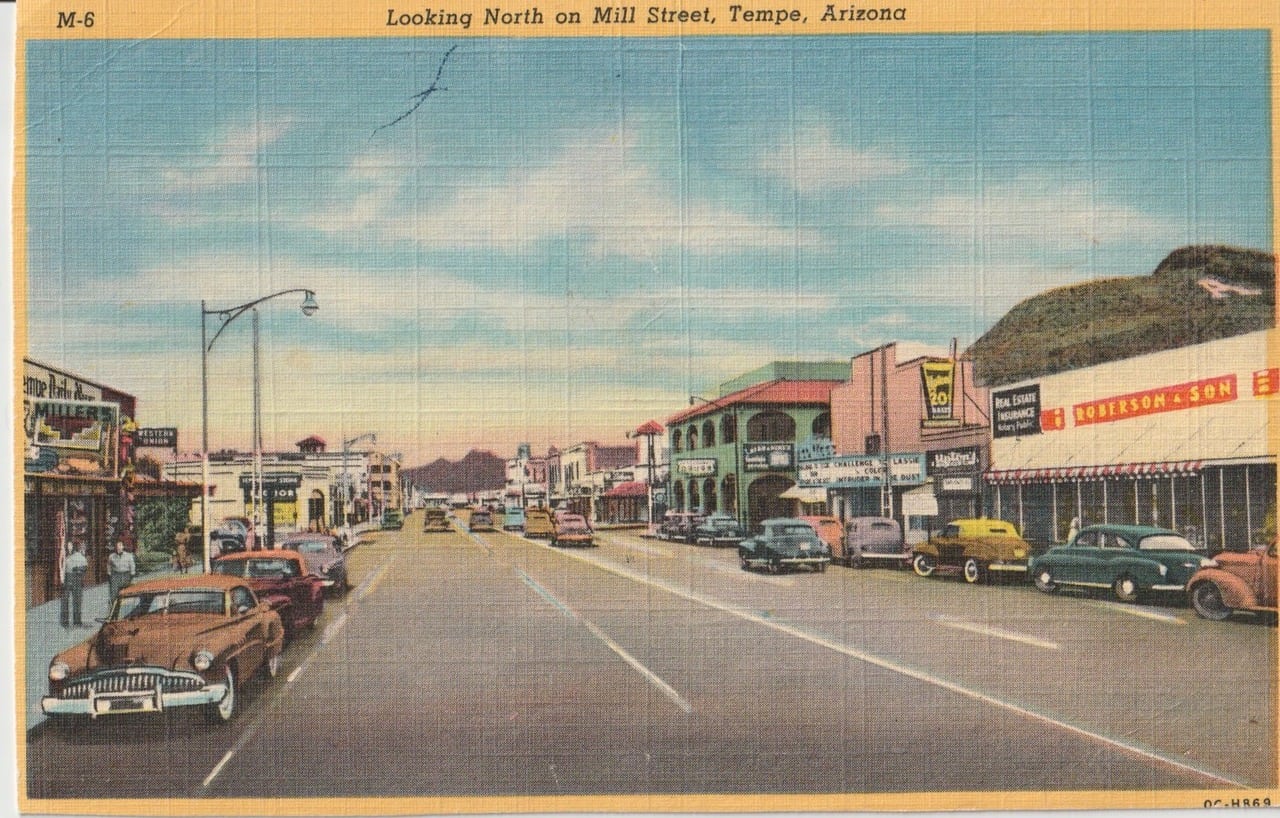 Tempe, Arizona
This is a 1949 postcard, that says: "Looking North on Mill Street, Tempe, Arizona". It was not written to anyone, which I miss. The postcard itself says "Tempe is a pretty little residential city only nine miles east of Phoenix. Arizona State College at Tempe, and the world-famous Desert Botanical Garden and Papago Park are both worthy of note here."
My favorite area in the greater Phoenix Metropolitan area was always Tempe. I graduated from ASU and during that time and after, this area was Mill Avenue was so very 1970's, so very cool. I loved the older buildings, some of which have been rehabbed and some recreated. I LOVED the burgers at the Chuckbox and avocado sandwiches at a little place down a side street. (Might I say, LONG before avocado toast was a thing?)
Where to begin? One of the fascinating things about these postcards is how they capture a moment in time, but not a discrete point within that time, but time with context, meaning and memory. This is one of those postcards.
The year is 1949. How do I know that? Aside from the general age of the cars, the two films showing at the movie theater were released in 1949. And, into history that surprised me.
The two films are: Challenge to Lassie – and who doesn't love Lassie? The other film, which is culturally significant is Intruder in the Dust. The film is based on a novel by Nobel Prize winning American author, William Faulkner. The story is about a black farmer who is accused of murdering a white man. He is ultimately exonerated. At the time, this was ground-breaking territory. The actor who portrays the accused, Juano Hernandez (Afro-Puerto Rican actor) is still considered to be one of the finest, if not the finest black actors in film history. This film is quoted in Ken Burns mini series "The Civil War". Right then, right there, in Tempe, Arizona. I wonder if the photographer realized the cultural significance of that film when he took the photo?
You will notice the A on the mountain behind the buildings. I never knew when the A arrived, so I did a little research. The Hohokam were the first people to live on A mountain. Archeological evidence includes pictographs, scrapers, metates and other artifacts. Of course, these people would have made a life here: The Salt River flowed on the north side of A mountain!
My aside here. I had a geology class at ASU in the 1970's. One of our tests was an orienteering challenge, well predating The Amazing Race. In groups, we were given a compass and directions, dropped off on the north side of the mountain and tasked with arriving at a location identified by compass readings a few hours later. I never thought about the history of that mountain, people who came before, nothing – just getting to that point in time to get an A. Once more scolding myself for not paying attention and not looking beyond the obvious.
Now, I find out, through my postcard adventures that ASU had various names, with corresponding letters on Tempe Butte. I've found 5 different names and 3 corresponding letters on the butte. First, it was an "N" for Tempe Normal School (aka, a teacher's college), then "T" for Tempe State Teacher's college and finally, "A" for what became ASU.
Postcards are moments in time. But it's not just a moment – it's an entire existence, expanded upon by an actual posted card. There is so much more I could write about this card– Hayden's Ferry, Tempe Town Lake, Tempe City Beach, the guys standing on the left, obviously in Levi's or Wranglers. More to come in other cards about all of that. For now, I've learned a whole lot that I didn't know about my alma mater's city.
Off to explore more magical postcards and Arizona history!
Sherry
Subscribe to this site for updates