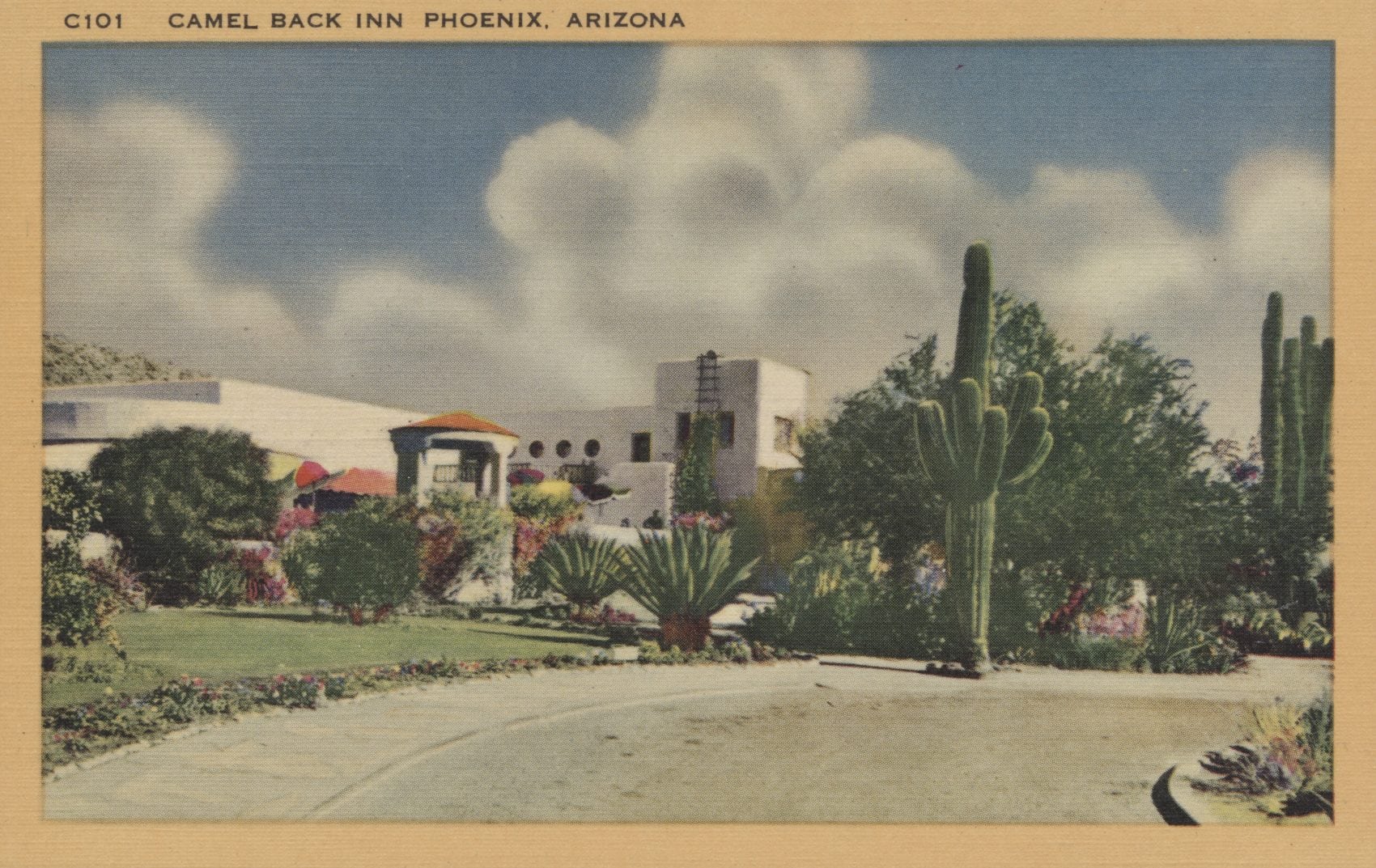 Postmark 1950.
"Dear Aunt and Cousins
Here we are back out in the west on vacation for nearly a month have had a grand time. It sure gets into your blood we may decide to move out here some time as it is so nice out here. Hope this finds you all well as ever.
Howard Turk and Family"
I think Mr. Turk was quite formal. I've seen very few postcards where the sender signed the card with first and last name and included the family. This postcard, like many others muses about moving to Arizona, or checking in just after moving to Arizona.. I love the idea of this family being on vacation for a month with more to come. The post mark is Williams, Arizona, so I assume they continued their trip into Northern Arizona.
This card brings so many choices to mind. I need to talk about how Camelback Inn was built, that the location was characterized as "remote". The first and only time I ate pickled quail eggs was here. I could choose to begin with the adobe walls, the cactus, the views. I could comment how Camel Back Inn is NOT on the sunny side of Camel Back Mountain.
I am choosing to start with my all time favorite film star, who once again, makes an appearance in Arizona and a mere mile from my mother's current home in Phoenix. Yes, indeed, Clark Gable was apparently a frequent guest here. This is the third postcard that leads to Clark Gable in a tangential manner. I never knew…and I sort of love this…
Back to the Camel Back Inn. Another fabulous resort, updated and renovated recently. This resort was always intended to be luxurious. According to newspaper reports and associated ads of the time, it was built with everything a resort vacationer of the most discriminating tastes could possibly want. The resort opened in 1936, this postcard is a style from the 1940's. The postmark is 1950. Despite an opening in the midst of the Great Depression, the Inn did well. Plenty of wealthy people wanted to travel and to experience new things.
From the time, directions to the resort read: "the inn is reached by traveling east from Phoenix on Camelback Road…from there a good desert road, well signed leads the motorist to the front door of the inn…". When built and opened, the Inn was 12 miles from Phoenix. WOW. Newspapers cover the development of said "good desert road" and its financing.
When Camelback Inn was in pre-opening and beginning stages of operations, lots of other businesses in the area bought ad space around newspaper articles that covered the resort. The articles and ads are a trip through time. There are articles about the shower curtains, the need for waitresses of "slender stature", dress for the "tea-boy" and on and on and on. No detail is left undescribed, unknown, unanalyzed or unadvertised.
Ads for local businesses contain lines like "provided the (fill in the blank) for Camelback Inn. These include every possible article, service, mechanical device, clothing, sporting goods, plaster, paint and feed. Saddles and riding wear could be purchased at Porter's. Goldwater's had resort wear designed for the desert (in terms of fashion, if not comfort). One of the more charming ads markets the feed supplier, specializing in "oat hay" for the horses of Camelback Inn. Needless to say, this was the ultimate Phoenix joint promotional marketing effort. I can imagine the businessmen of the time having dinner and making a plan.
I think my favorite thing about these ads is the word "sun-lazing". Lots of the Camelback Inn associated ads promote sun-lazing as a primary activity. One of these ads invites the guest to participate in "sun-lazing and star-gazing". To me, that is the best of all.
Here's to sun-lazing and star-gazing in Arizona!
Sherry
Subscribe to this site for updates