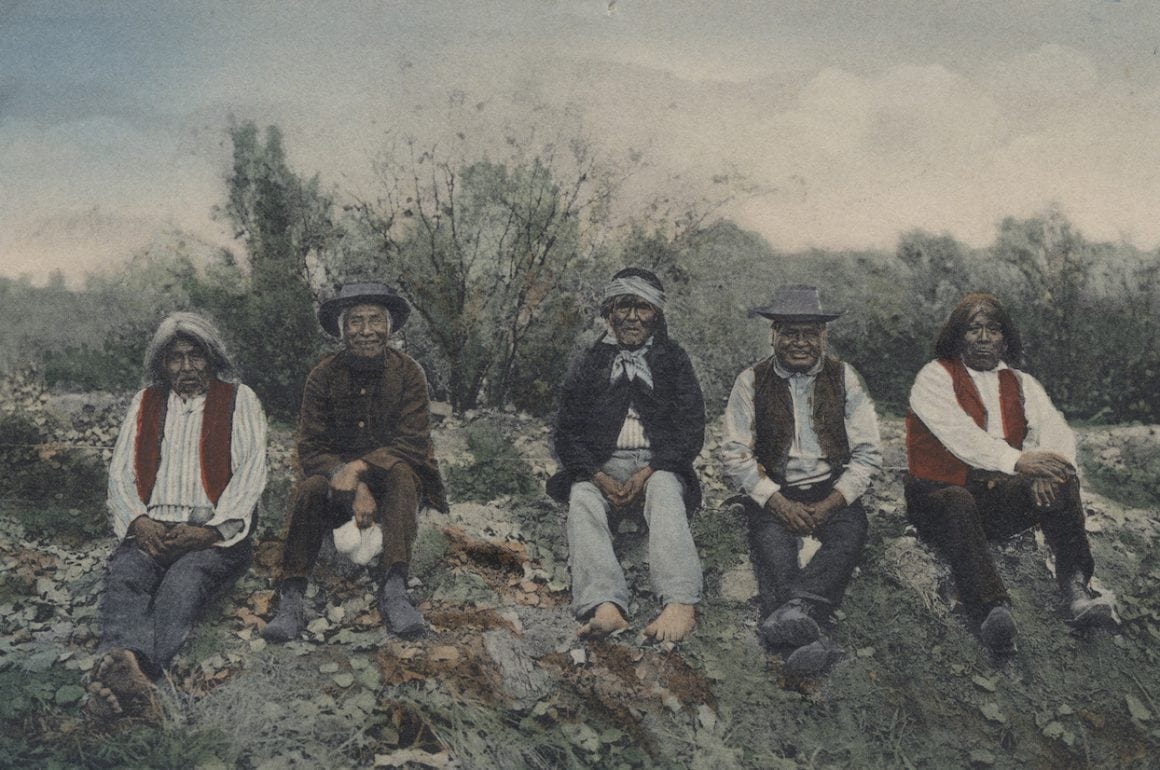 I've been writing about places in Arizona and now it is time to write about the people of Arizona.
This postcard has a single line message – "A Noble Bunch". I am a little conflicted about Native Americans as subjects of postcards. The takeover of their land, first by the Spanish and then American settlers was appalling and shameful. By the time of this postcard, native children were being taken from their families and put into boarding schools to Americanize them. This involved things like not being allowed to speak their language, practice their religion, wear traditional clothing. My family's roots are in Ireland, where the English took over the country in similar ways. Do I wish that I knew how to speak Gaelic, knew our traditional music, literature and customs? Absolutely. Having said all of that, Native Americans, the tribes, clans and nations are part of, and the roots of Arizona history.
There are many, many postcards with Native Americans, and their cultural artifacts; pottery, ruins, pictographs, textiles, baskets, jewelry and architecture. During the Fred Harvey era, beautiful postcards were made with an emphasis on Native Americans. Fred Harvey changed and some say created the Indian Art Market. These postcards add to the color, beauty and history that I like to write about.
I don't know what the numbers at the bottom on the address side mean. There were no zip codes. I cannot imagine what these are – maybe a reader has an idea? I am interested to know what anyone thinks.
Here is a group of First Americans. The card says "photographed for the first time". Of course, there is no way to know if this statement is actually true. Regardless, I am enthralled by their expressions, two smiling, one smirking and two inscrutable. I wonder what they actually thought about all of this. What conversation took place before the photograph was taken? Could anyone involved in this – the men in the postcard, the photographer, the sender, receiver – anyone – have imagined that more than 100 years later a woman in Los Angeles would be writing about this captured moment and those men? I would say not, but I like to imagine what they would say to me.
They are wearing American Western clothing, but two are barefoot. I cannot imagine how tough these men were.
The Indian nations in Arizona contribute mightily to the state. Their ancestors figured out how to live and flourish in an extreme environment. Settlers learned from them, and many aspects of their culture define Arizona. Beans, corn and squash anchored indigenous diets. The Spanish added spice. There is still nothing like the rich flavors of Arizona cuisine – the Indian, Spanish and American influences combined into a smoky, spicy, combination. That flavor is the history of hundreds of years and diverse cultures blended into a different kind of flavor than exists anywhere else. Ancestral canals, rehabbed, expanded and lined, bring exuberant life to the Valley of the Sun. Art, artists, music, architecture, all reflect these cultures.
At the time of this postcard, massive change was happening in the Salt River Valley. Settlers were irrigating, using the old canals left by the Hohokam. The natural river course dried up as water was diverted. The entire ecosystem changed within a few years. I cannot imagine the level of upheaval, new people arriving, redirecting the water.
Time marches on. Sovereign Nations exist all over the state of Arizona. There are 21 recognized tribes, with the 2ndlargest population of Native Americans in the US. Their food, culture, artistic style, and history are part of what makes Arizona fascinating.
I feel like this postcard captures a moment in a turbulent time, with real people. There is nothing like seeing an actual expression on a real person's face. I return to their faces. What were they thinking? I will never know. But I can appreciate, at least a little all the influences they and their people had on what is now the Valley of the Sun.
Sherry
Subscribe to this site for updates