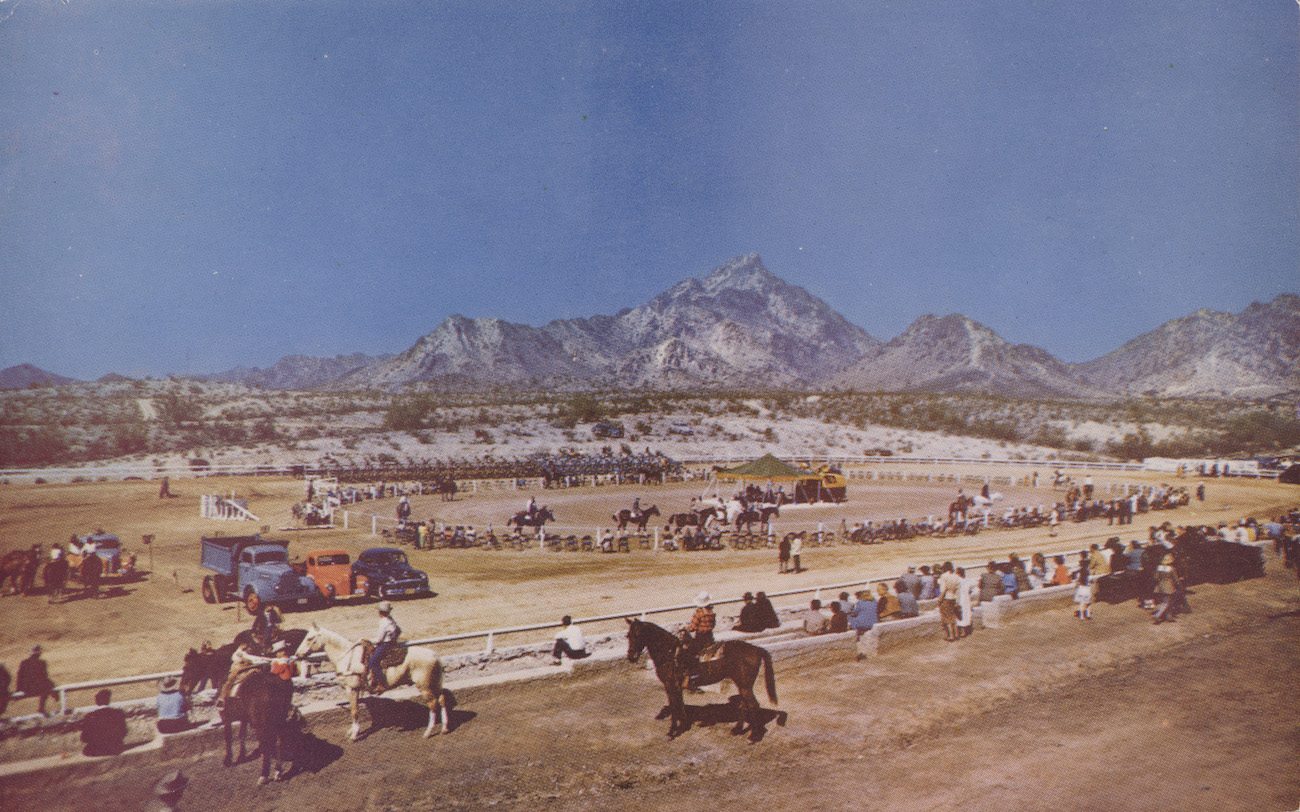 This is one of the more surprising post cards I discovered on my treks through postcard land. This is a horse ring, with Piestewa Peak (formerly Squaw Peak) in the background. I lived in Phoenix for many years, and have visited twice that many years. I am very curious about history, have stayed at the Biltmore Resort, taken the tour, and read history. I've searched the Internet for anything about the Arizona Biltmore Hotel Show Ring and Race Track, Phoenix, Arizona to no avail.
I believe I will have to make a visit to a library in Phoenix, perhaps ASU history, or the state library to find more.
Having said all that, this makes sense to me. Postcard sellers date this card to "circa 1960's", however, I feel like the cars are more 1950's cars. I assume postcard sellers are looking more at the postcard itself – perhaps produced in the 60's, with a 50's photo. When I look at the clothes on the spectators, they also seem more 1950's ish.
In any case, I LOVE that the Biltmore had a show ring and race track. I imagine the hotel full of guests from colder climes, middle of winter in Arizona, looking for cowboy and western themed things to do. I imagine that the Biltmore had a bus or perhaps a limo service to the ring, where guests could watch horse shows, races, perhaps ride, perhaps buy a horse to keep in Arizona for next winter's retreat.
The Stagecoach Inn had guests who kept furniture stored at the hotel for the next winter they came. Every year, they'd let us know their arrival date, we'd change out the furniture in the cottage and put their croquet set in the closet, and then move it out again when they left. I imagine that the wealthier clientele at the Biltmore could easily keep a horse or two for riding when visiting.
I think if I were one of these people my day would go something like this: get up, have a lovely breakfast on my balcony, or terrace, or the lawn of the Biltmore. Somehow get over to the horse ring, watch or ride, mingle. Back for a lovely lunch, followed by some reading by the pool, a little swim, perhaps a nap. Late afternoon, back to the horses, or perhaps a drive in the desert, shopping, strolling down 5thAvenue or Old Town Scottsdale, write a few postcards. Dinner in the restaurant – still there, still great food. Then, up to the Mystery Room for a cocktail of some kind, dressed in elegant attire and a hat.
The view of Piestewa Peak makes me think that this ring was somewhere around Indian School Road and about 16thStreet. I could be incorrect. Perhaps a reader will know something about this ring and email me. I would love that.
I've looked for another postcard like this, but with a message. Alas, I've found others, but all unused. I would love to have a message, and hopefully a message talking about the actual card, versus, hope you had a great Christmas or New Year. An inordinate number of postcards have Christmas and New Year as themes. That makes sense to me, since much of Phoenix' allure was winter in the desert. These two themes are followed closely by commentary on weather – if in the winter, it is all about how lovely it is. If in the summer, it is generally about the actual temperature, followed by either, it is cool in the shade, or it is HOT.  The last recurring item is something like – I hope you are over the grippe, lumbago, rheumatism, or some other illness. Or some combination of all of the above. I like the winter weather commentary the best.
On my next trip to Phoenix, I intend to take this post card and drive around until I figure out the general location. Given enough time, I plan to visit one of the great libraries with Arizona history and make friends with a librarian, who I hope can help me find more history about the Show Ring and Race Track. I wish it was still there. What fun – to have horse racing in the middle of Phoenix!!
Here's to more travels!  Sherry
Subscribe to this site for updates