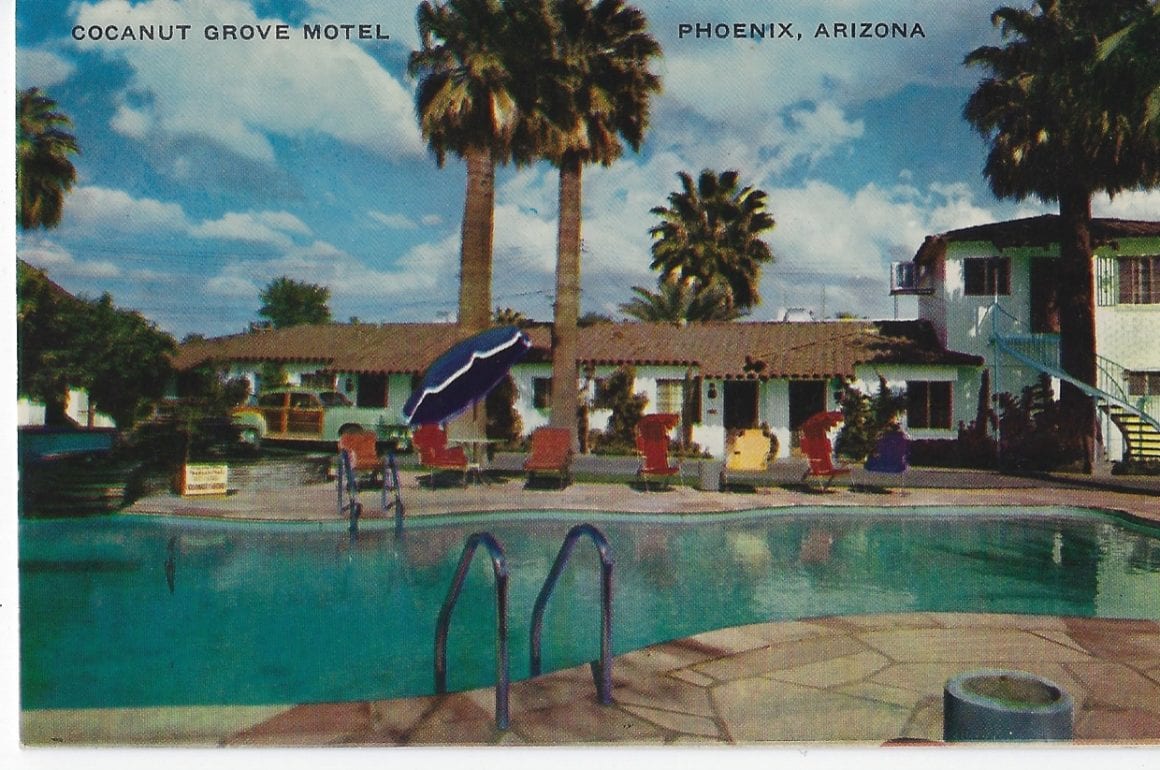 This motel was a few miles from, and on the same street as my family's Stagecoach Inn.
I purchased this postcard for two reasons. First, the incredibly fabulous 1950's woody on the left side of the card, parked, waiting to go on an Arizona adventure.  Second the incredible colors of the pool, umbrellas and pool chairs.
Imagine a cool, salty margarita, which requires being in Arizona in the summer to fully appreciate. There is nothing like salty, spicy Arizona Mexican food, accompanied by a margarita. Even if one is a teetotaler, the image works just fine and some drink, a little sweet, a little salty, a little citrus is de rigueur in the Arizona summer. Or better yet, a Tequila Sunrise, invented at the Arizona Biltmore (see a post about the Biltmore on this blog). That sunshiny drink that looks like the sun rising over the Arizona desert…
Those pools are a staple of the Phoenix "Motel Capital of the World" and further of Van Buren Street during that time period. That street was almost exclusively motels, hotels, inns and tourist camps. If someone went to Phoenix, chances are they stayed on this street. Over time, it has certainly deteriorated, which is unfortunate.
I remember and remember vividly, the Great American Road Trip. One of my favorite things was driving into a city, in the dark to the motel/hotel area. Neon signs, with all the whimsical names, lights that only a neon bulb could create, illuminating the dark. There was something quite exotic about it all.  There were not many neon signs in Manitowoc County, Wisconsin at the time. Not like the dairy farmers were investing in signs advertising their cows' brand of milk!
I love the Spanish architecture of the motel, although I don't love what the Spanish did to the state or its indigenous people. I love the little window air conditioner attached to the upper floor of the two story building. I cannot imagine the temperature without the AC.
The phone number here was AL – 2 -0930.  Ours, from the same time period was BR – 5-3631.
The card states – "Furnished apartment and rooms designed for gracious living." To me that sort of contradicts the woody parked in front. I think more like bathing suits, nachos, Mexican music – which to me still sounds like the German band music of my early childhood. I see a bunch of guys, out for spring break, not shoveling snow from wherever they were. Or in the summer, people traveling through. I will say that even in the 1970's when we owned our property, the summers were DEAD. I remember my parents shutting down the AC in all the buildings but one. They would rent the rooms at a low rate, only to cover the cost of the utility bills and nothing else. Now, when I go to Phoenix, even in the hottest months of June, July and August, the hotels I stay in are full – always.
The postcard further states "Paddock swimming pool". Paddock is still in business, still building, servicing and selling swimming pool supplies. When we got a pool for our home, it was a Paddock.  Everyone we knew had a Paddock pool.  That firm was important enough to be named on a post card.
The post card further states "Lobby – Television – Horseback Riding"
My editorial here – I wonder what a hotel without a lobby is like and if that was a deciding factor for guests.  Perhaps lobbies will be an entire post.  I must ponder that.
Television – no comment.
Horseback Riding – this I must wonder about. This building is still standing on Van Buren Street. There is no horseback riding anywhere near this motel and they certainly didn't have horses on the property.  I wonder if they sent their guests to the horse barn that I walked to with my babysitting money on our end of the street?
Right now, when it is HOT in Los Angeles, where I live, I look at this pool and think – 80 degrees, nachos, some cold, fizzy drink, a good book and SPF 50, slipping into that cool water in the pool – I am golden.
With those thoughts – signing off.
Subscribe to this site for updates