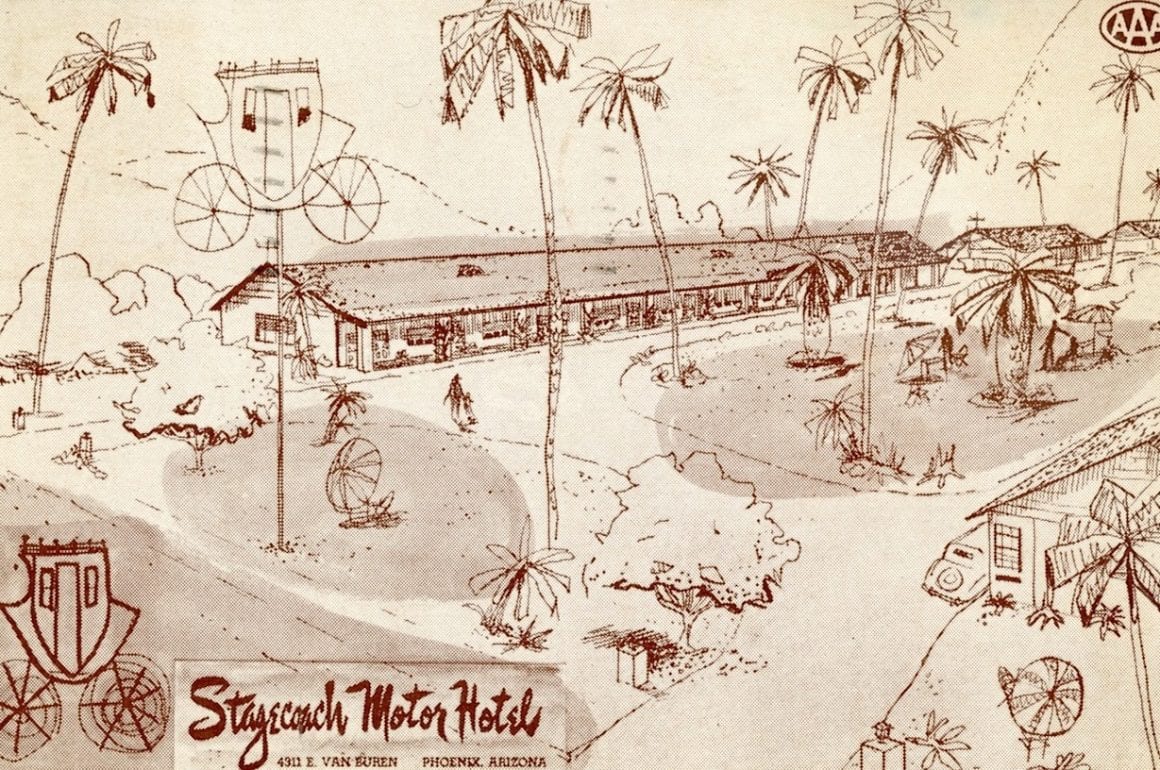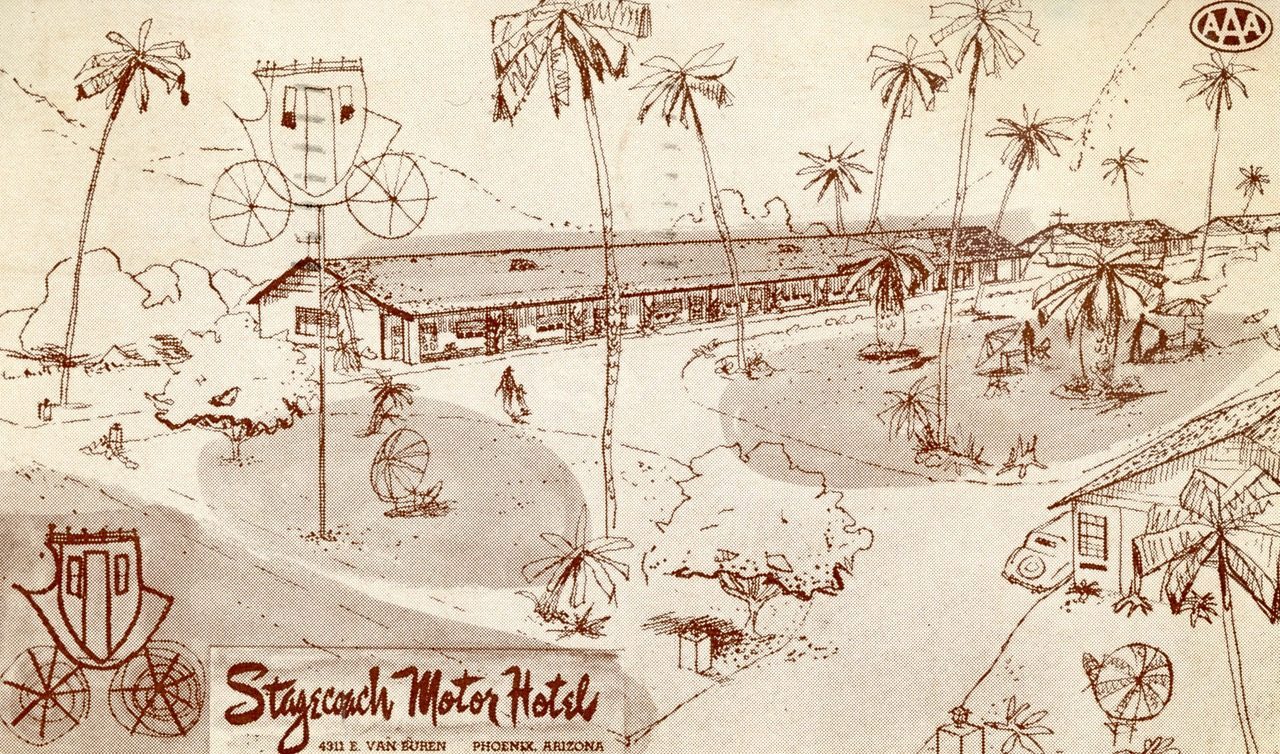 This is the postcard that started my fascination with the motel culture of Phoenix. That culture lives today and has grown into a resort destination with endless possibilities.
My family believes that the original buildings of this property were built in the 1930's. The hotel had a few rooms, Spanish tile, plaster and lathe buildings, shake roof. Those rooms were always cool, even in the summer.
Exuberant tile covered the bathrooms, ceilings were low, with wide, wooden beams. If I close my eyes, I can still feel the ceramic tile, outlines of color and pattern. The thick walls made the rooms quiet and cool – a respite from summer heat and wind. Those rooms were the first time I had ever been in that type of architecture. To this day, I feel the sense of a room like that and it remains my favorite architectural style. Somehow, it feels like home.
The property later expanded to include a pool to the left of the stagecoach lantern at the driveway, where a large cabana and office were built.  Two buildings were moved from the air force housing located in the Papago Buttes a few miles away.  More cottages were built.
In the 1970's more buildings were built. The property started with a few rooms, no pool, spacious lawns, palm trees and rose gardens. The first pool was built, a second added, then the first pool was filled in, a huge sign added. I remember my dad fixing that sign with some frequency. Why it "broke" remains a mystery of the universe. I believe I have all of the postcards with all the iterations of the Stagecoach Inn, Motor Hotel, Motel, Motor Court – whatever its name. This blog will have those postcards – through time.
Visitors to the Phoenix area were committed to winters in the Valley of the Sun. We had visitors who came every winter, and actually stored personal furniture and croquet sets on the property for their stays. They came from Canada, the Midwest, the east.
Before sports were huge business enterprises and before athletes were the stars they are today, they stayed at the Stagecoach Inn. We hosted PGA Professionals playing in the Phoenix Open, when it was held at the Phoenix Country Club. We had baseball players for spring training, before spring training was big business. Race car drivers from the Winternationals (drag racing) and the Phoenix 500 (NASCAR). I didn't really think about them differently, just other guests. Occasionally, I was the babysitter.
Times changed, the property was sold. Later, it became a parking lot. Recently, Hohokam artifacts were discovered on the property and have been excavated. That means that people have been staying and living there for at least a thousand years.
When we moved to Phoenix, we lived on the property for the first year. I loved that I could walk to Pueblo Grande and visit Hohokam ruins. Horse stables, where I could take my babysitting money and ride through Papago Park were also walking distance away.
For a girl from Wisconsin, these were astonishing pastimes.
We had a handyman named Smitty, who had worked at the property for years. He was the continuity. I believe that he had been an actual cowboy – as in, actually moving cattle. He always wore a cowboy hat, boots, belt, jeans. His hands were gnarled. He knew how to do everything on the property and could fix anything. He was part of the Stagecoach Inn.
That first year introduced me to a new world of food, experience, history, culture and people. We moved from a small town to a foreign place. I discovered tortillas, refried beans, tacos, burritos, chilis and all the other delights of Mexican food, in its infinite variation. For a girl from Wisconsin raised on Midwest, solid, regular food, this was a new universe of taste. Within a year, I had seen more and learned more than I had in my short life. That experience changed me. Phoenix and Arizona changed me.
If you are reading this and wondering where this place existed – it is on the south west corner of 44th street and Van Buren. We owned it before Van Buren declined. Today, it is a long term parking lot for Sky Harbor Airport. Too bad the parking lot doesn't have rose gardens.
Sometimes, when I see roses, I think of our lovely rose bushes, tended by Smitty. That aspect of the Stagecoach Inn will always remain with me.
Subscribe to this site for updates